Every other woman has a problem with skin irritations occuring during her skin care routine, however, every tenth searches for solutions. It's time to make changes because we've got the right products at our fingertips. To feel the difference you just need to replace your serum with a Nanoil Anti-Redness Face Serum.
This formula has been designed for "rebellious" skin which is demanding and extremely prone to irritations. It is a good choice for:
couperose skin and rosacea

acne-prone skin

sensitive skin

mature skin with signs of aging
For each of them, we need a nourishing, moisturizing, revitalizing product which soothes irritations and protects from all possible irritants. Nanoil Anti-Redness Face Serum fulfils all of these roles.
If you haven't heard of it yet, keep reading.
Ingredients in Nanoil Anti-Redness Face Serum
It is a water-based, weightless, easily-absorbed and refreshing face serum designed for daily application and home use so you can care for your skin in an effortless and effective way without any complicated treatments.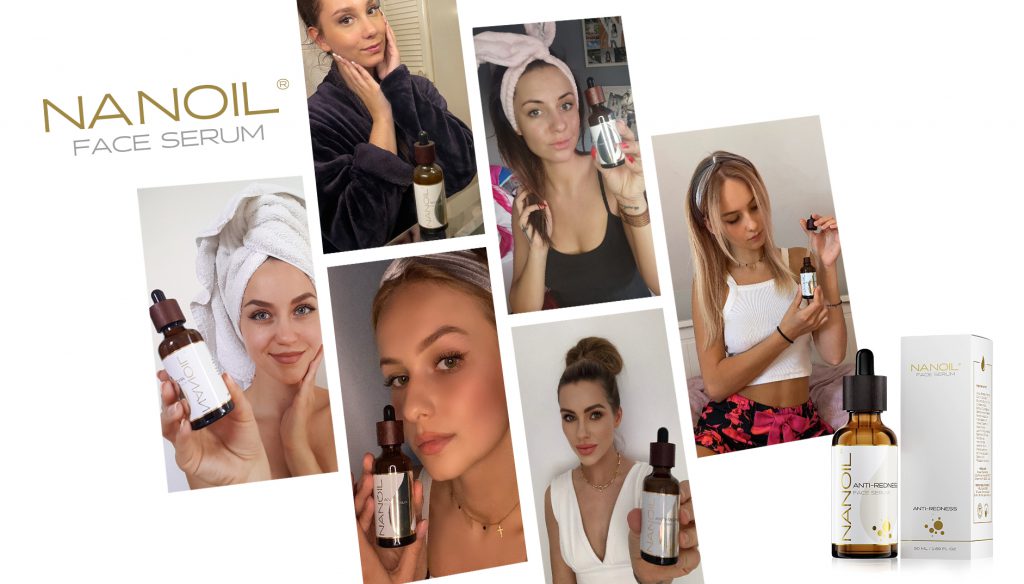 What ingredients does the INCI list display? The formula holds the best natural extracts from buckeye, linden, cypress cones and Boerhavia Diffusa.
The lack of strong, intensively-dehydrating and irritating substances like phthalates, parabens, aromas or colorants is definitely beneficial. If you're seeking a simple formula which is mostly filled with plant-derived ingredients, then the serum from Nanoil is a very good choice.
What does Nanoil Anti-Redness Face Serum do?
Regular application of this anti-redness serum is the easiest way to experience its wonderful effect. You can use it just once a day after evening make-up removal. It takes from two to three weeks to:
lessen the redness and irritations
moisturize and nourish the skin
strengthen the capillaries and prevent them from breaking
brighten pigmentation splotches and even out the skin tone
form a protective shield against all irritants
It is extremely important that you don't need to wait long for the results because Nanoil Anti-Redness Face Serum starts working from the very first use. The skin absorbs it rapidly, staying fresh and moisturized, plus the serum instantly alleviates irritations and combats the blushes, which are two top gripes of delicate, hypersensitive skin.
Nanoil Anti-Redness Face Serum is a perfect remedy when all skin care products fail. It is surprisingly effective but also gentle.
[More information and full ingredient list on the producer site]