We hate to say this but those who think that the best face serum must contain some innovative and recently-discovered substance is wrong. Skin isn't that demanding. All it needs are tested and proven ingredients of the highest quality. The real and evergreen hit in skin care is vitamin C – it offers you skin quality which you have been always dreaming of. Why Nanoil vitamin C face serum is the best? Find out how to use it to take the most of it!
Vitamin C in skin care: Recognized? But what for?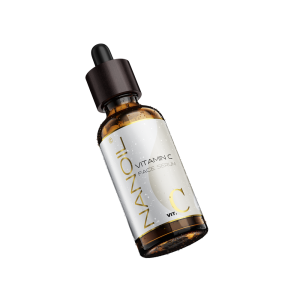 Being a source of youth, vitamin C is still considered by many experts as the queen of all vitamins. It's proven that our skin needs a daily supply of this essential nutrient to remain youthful-looking and resilient. Also, skin imperfections such as acne, discolorations, pigmentation marks and wrinkles don't blemish skin that is treated with vitamin C on a regular basis. Without it, skin looks dull, tired, vitality-deprived, loses its good health and ages faster. Undoubtedly, vitamin C is a key skin booster that has no equal substitutes. What do we love vitamin C for?
Brightens skin up in a snap.
Relaxes and revitalizes skin.
Evens out skin tone.
Erases discolorations, acne and wrinkles.
Has a face-lift effect.
Perfectly suitable no matter how old the skin is.
Best carrier for vitamin C? Face serum
The paradox of vitamin C is that on one hand this an incredibly mighty substance, which is able to delay skin ageing processes, but on the other it appears to be relatively delicate – it's unstable which means that it oxidizes fast. For that reason, it's pretty troublesome to supply skin with vitamin C externally because ascorbic acid tends to break down before reaching deep skin layers. Consequently, all that we manage to accomplish is supplying our skin with trace amounts of vitamin C only. This is why, even though it's pure form of vitamin C, it didn't do much in the cosmetic industry. Synthetic replacements for vitamin C didn't sweep cosmetologists of their feet either.
Only recently have scientists managed to develop the finest and the most stable form of vitamin C – 3-0-ethyl ascorbic acid. This is a real hit in skin care. This stable vitamin C form is closed in Nanoil face serum, and this makes it the best among top vitamin C face serums.
How does Nanoil vitamin C face serum work?
The shortest answer would be: It's simply the best, but you probably expect more than that. Therefore, let's tell you that Nanoil face serum is the most effective because it contains the best and the most stable form of vitamin C obtained from the purest ascorbic acid. In other words, this is the finest form of vitamin C developed in laboratories for beauty purposes. Obviously, Nanoil face serum also contains other high-quality ingredients that together they create quite a formula that skin clearly enjoys. What are the high-quality ingredients in particular?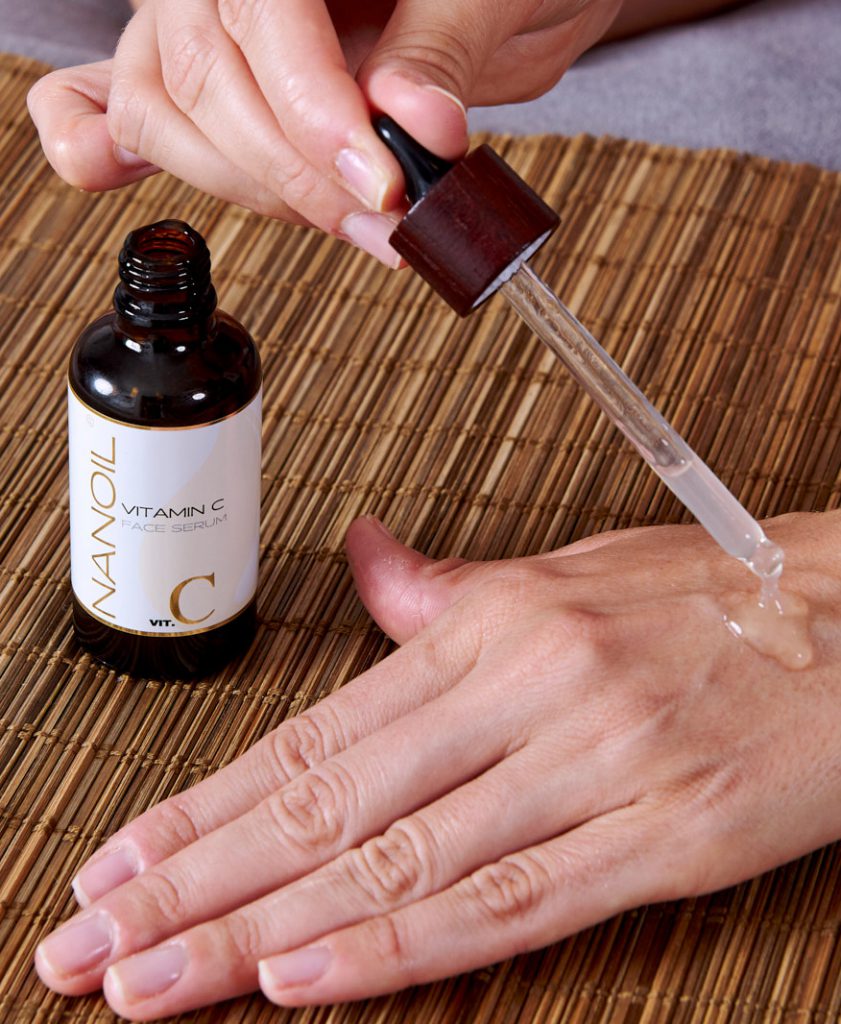 The best vitamin C face serum: Ingredients used in Nanoil
stable vitamin C – in its finest form that is highly effective, which is the above-mentioned 3-0-ethyl ascorbic acid that is able to brighten skin up, reduce inflammations and inhibits oxidation.
boerhavia diffusa root extract – a natural anti-oxidant that effectively delays skin ageing processes.
propanediol – a naturally derived glycol offers boost for vitamin C; it improves penetration abilities of all nourishing substances as well as replenishes skin with moisture.
sorbitol – an effective aid in the fight for increasing the moisture levels in skin; it also makes skin smooth.
Vitamin C Face Serum by Nanoil: Effects & Reviews
Undoubtedly, this is face serum loved by women. Satisfying 100% of expectations, the serum starts diligently working on improving the skin from the very first day of the treatment. This vitamin C face serum is irreplaceable in morning beauty ritual. Thanks to Nanoil, face looks healthy and all signs of fatigue and undersleep are covered up with a youthful glow. On the top of that, this face serum has a skin-lift effect. Here is how women enthusiastically describe the effects of Vitamin C Face Serum by Nanoil:
"Just one use of Nanoil face serum was enough for me to feel my skin relaxed and radiant."
"Nanoil is the best vitamin C face serum – big size, highly effective, lasts long, can be used morning and evening."
"No other face serum did make my skin so rejuvenated and brightened up as Nanoil. Even discolorations disappeared!"
"Cures acne and soothes inflammations. Nanoil is the best face serum that helps fight back acne."
These are the online reviews on Vitamin C Face Serum by Nanoil. Reportedly, this serum is taking beauty industry by storm which shouldn't be surprising to anyone – women tend to spend a small fortune to achieve similar effects in beauty parlours. Fortunately, now these results can be achieved at home. Nanoil face serum with vitamin C is an energy and health boost for all your skin cells.

How to apply Nanoil Vitamin C Face Serum?
This face serum can be used solo, e.g. before applying a moisturizer. Another option is to combine it with a similar skin care product that has some moisturizing properties (e.g. hyaluronic acid or natural oil). Nanoil Vitamin C Face Serum brightens skin up visibly and provides a daily protection for skin. Since it's able to stimulate collagen synthesis, it's one of the best skin care products of this type available currently on the market. It can be applied to all skin types, therefore no matter if your skin is mature, oily or sensitive – just give Nanoil Vitamin C Face Serum a try!