If you follow makeup trends, you surely know what "soap eyebrows" are. It's an effective and long-lasting method of styling the brows involving brushing the soap into the brows using a designated brush. The unique brow makeup soap tames the hairs and keeps them in check for up to several hours. With Nanobrow Styling Soap you will achieve an effect of perfectly-formed, fluffy, and shiny eyebrows. Even though such styling looks very natural, your eyebrows will be visually thicker. It works well with full and bushy as well as sparse and thin brows.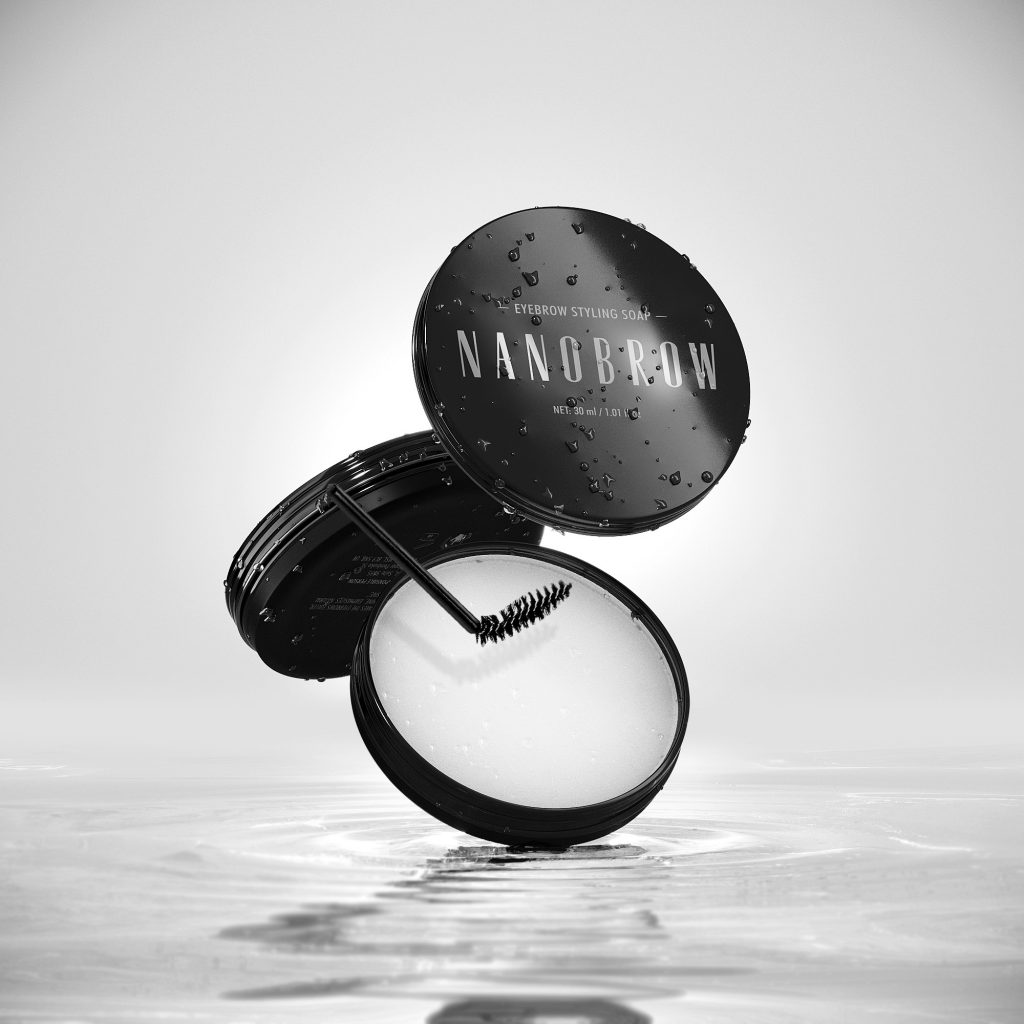 How does Nanobrow Eyebrow Styling Soap work?
The unique formula of the brow soap from Nanobrow doesn't require wetting the brush. It is mainly composed of glycerin, giving the soap a pleasant consistency. What's more, it moisturizes and protects the brows. The soap gently covers each, even the shortest hair, giving an illusion of multiplied single hairs, resulting in visually bushier brows. It will be a great substitute for a brow pomade, mascara, or gel. Its big plus is its efficiency and convenient packaging in the form of a flat jar so it's easy to operate with a spoolie. With Nanobrow your brows will look perfect even without any makeup.
Why is Nanobrow Eyebrow Styling Soap worth having?
A special spoolie designed for brushing and styling the brows is included in Nanobrow Eyebrow Styling Soap.
With Nanobrow Eyebrow Styling Soap you will create a natural, everyday look as well as a sharp makeup look.
It's transparent so you can mix it with other brow makeup products.
Any brow – even sparse ones – will look good with this product.
It enhances, styles, tames, and forms a perfect shape.
The effect of brow lamination
Holds the hairs in place all day long – without touch-ups.
A recipe for perfect brows? Nanobrow Eyebrow Styling Soap!
Nanobrow Eyebrow Styling Soap is safe for allergy sufferers and those with sensitive skin as it does not cause allergy or irritation. Its mild glycerin-based formula nourishes each hair, making it soft and hydrated for the day. It also doesn't leave white residue or clumps on the brows. It's completely safe and very efficient.
How to achieve the "soap brows" effect?
Prepare a small brush in the form of a spoolie or a brush. Apply a small amount of Nanobrow Eyebrow Styling Soap by gently rubbing the brush in the soap.
There's no need to wet the brush – The Nanobrow soap is soft and malleable enough.
Brush through the hairs using the spoolie to direct the brows upward.
Leave for a moment so the soap can set the hairs in the right place and direction.
You can use a pencil, brow pomade, or shadow for an additional definition, or you can leave them natural.